Your health and safety are very important to us! We encourage you to stay up to date on the risks of Covid and what you can do to protect yourself and your family from this virus. Please check out the link below to find CDC's latest recommendations.
We currently offer a variety of ways to engage with us based on your comfort level with Covid:
Inside mask optional
Inside mask required
Outside mask optional
Online livestream
Masks are currently required for kids volunteers and optional for all kids.
We also want you to know how we plan on communicating Covid + cases at church with you. If you test positive for Covid and were present in one of our gatherings, please follow the following procedures:
We are currently in Phase 3.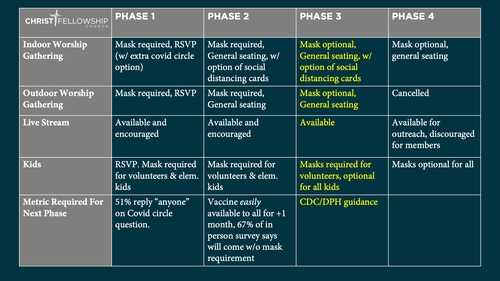 You can also watch this video below for more details about our plan.