KIDS MINISTRY DURING COVID-19
While COVID-19 prevents us from caring for your kids in person, we want to care for them from afar. Here are a few ways we want to encourage you to help your kids engage in worship:
1. Download this
Kids Worship Guide
before our online gathering each Sunday at 10:45. It will help them follow along. Talk with them about it after the worship gathering.
2. Consider reading
The Jesus Storybook Bible
(or the actual Bible, depending on their age) with your kids each night and praying together.
3. (If your child is in elementary school) Teach the Sunday School Lesson you receive from us by email. If you are not receiving these lessons and want to be included, email us
here
.
4. (If you child is in elementary school) We are scheduling a Zoom call each week to keep kids engaged with each other.
Email us
if you want to be a part.
5. If you would like more interactive resources, including Bible Lesson Videos and Activities, Lifeway is offering a free "Lifeway Kids at Home" resource throughout COVID-19. You can sign up
here
.
Jesus said, "Let the little children come to me..."
We offer childcare for kids birth - pre-K during the entire worship gathering. We engage these little ones with age appropriate learning and play experiences. Kids Kindergarten and up are invited to participate with their parents during the singing portion of the worship gathering and are dismissed before the sermon for Sunday School using the Gospel Story Curriculum.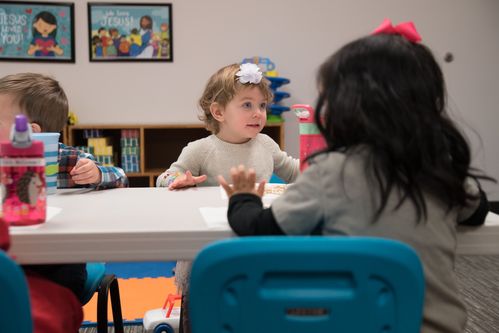 Babies and toddlers and preschoolers can be checked in as soon as you arrive at church. You'll see a team member wearing a CFC shirt at the front desk when you arrive. They will go back to their classroom right away.
We believe in family worship at Christ Fellowship Church, and because of that, we have our elementary students join their parents for the first part of the worship service. You can still check them in once you arrive and then when the message begins, they will be dismissed to their classrooms for their teachings.
Have any questions? Contact Us!